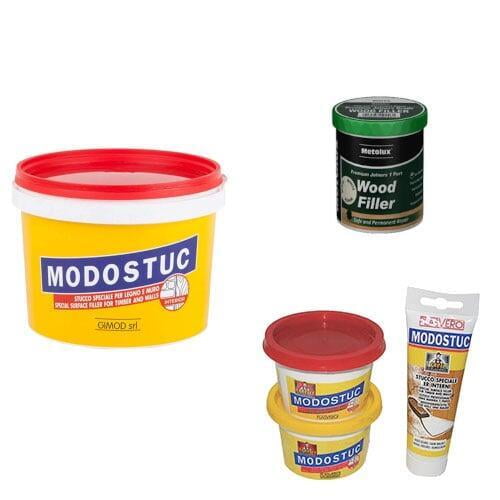 1K Wood Fillers

Metolux 1 Part Wood Filler is one part high strength polyester wood filler. Used for the filling and repair of small pinholes and cracks below 5mm depth. Particularly suited to flat face-up applications and for materials such as MDF and chipboard. Fast drying in the normal atmosphere. Available in seven colours
Modostuc is paste filler for professional use formulated with water, cellulose derived thickening agents, resins in emulsion, plasticizers, calcium carbonates and natural calcium sulphate.

Modostuc is used to cover any irregularity and defect on wood supports and masonry. Available in eight colours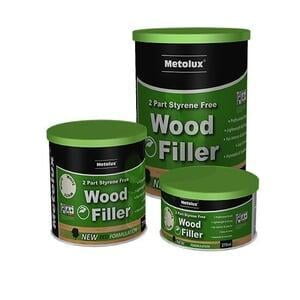 2K Wood Fillers
Metolux 2 Part Styrene Free Wood Filler is a pre-coloured two-part high strength polyester wood filler supplied in retail and trade pack sizes.
Supplied with a separate hardener, this wood filler provides a strong high quality repair to wood imperfections. Supplied in a large range of pre-coloured blends to match your wood type.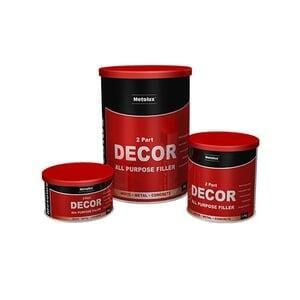 2K All Purpose Fillers
Metolux 2 Part Universal Dec Fill is a fast hardening two-component polyester filler paste for the filling and repairing of holes and surface imperfections in a wide range of materials including wood, metal, concrete and GRP.
It is easy to sand and finish with minimal clogging, and leaves a hard ready to coat finish which can be easily blended. It's a good value product that is versatile: it can be used on wood (door frames, windows, screw holes, knots), metal (car body work, screw holes, smoothing), concrete and GRP.